Enhance your mental clarity with this hemp-powered blend formulated with adaptogen mushrooms and super botanicals. Ashwagandha, full spectrum CBD, Reishi, and Chaga mushroom will help you maintain focus and healthy energy levels.
Tree nuts, dairy, artificial ingredients, and fillers.
Spagyric Extracts – Utilizing a rare and ancient extraction method, the mood-boosting ingredients in our clarity capsules are obtained by using fundamental elements of nature to create a "maximum plant extraction" that contains vast amounts of natural brain-boosting elements.
Ashwagandha – This apoptogenic tree root is a natural substance considered to help the body adapt to stress and exerts a normalizing effect on bodily processes
Chaga Mushroom – Naturally lowering the oxidative stress on our brains and also increases acetylcholine levels, this mushroom plays an important role in attention and memory.
Cannabidiol – It has also been shown that small doses can increase wakefulness and promote energy, which may help bring you back from any inability to focus or stay alert.
Reshi Mushroom – Its calming properties make this mushroom unique — all of which are thanks to the compound triterpene. These compounds may alleviate anxiety, ease depression, and even encourage better sleep.
All of our products are designed, tested, batched and packaged in the USA.
This product is made in a facility that is GMP-certified through the Natural Products Association, NSF (Certified for Sport) and UL (Management System ISO 22716-2007).
Tested. Verified. Transparent. We use best-in-class 3rd party ISO/IEC-accredited laboratories to ensure every batch of our products for consistency, quality, purity and potency.
See Certificate of Analysis below for full potency results: Daily Clarity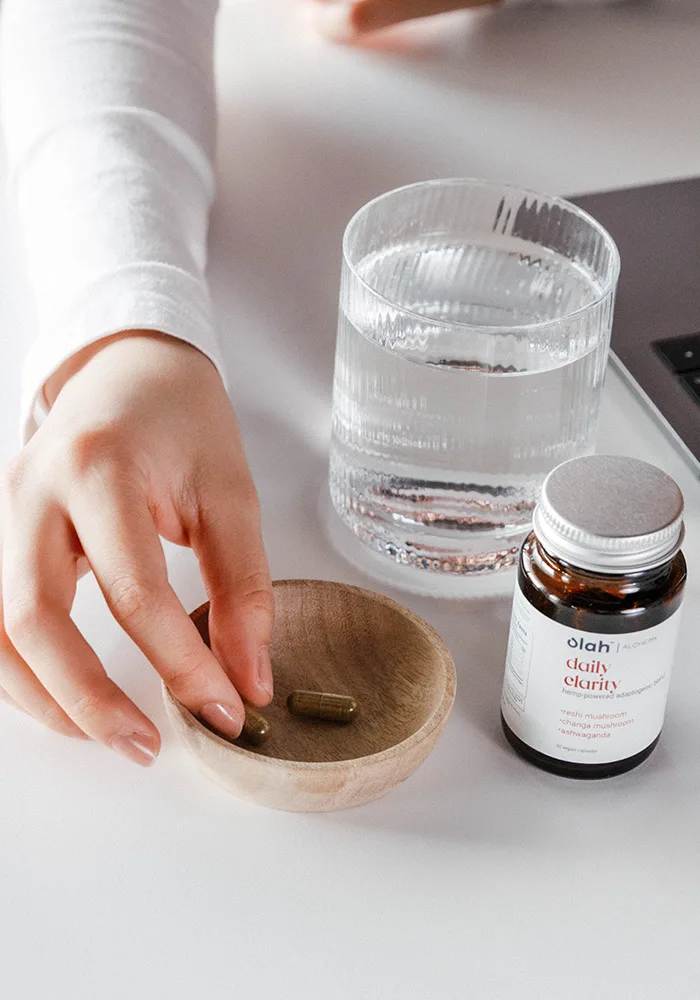 Reishi Mushroom

With more than 400 different nutrients, Reishi Mushrooms lower fatigue and its high antioxidant activity can help reduce cell damage.

Chaga Mushroom

With potent antioxidant and anti-inflammatory properties, Chaga mushrooms help reduce oxidative stress and fight inflammation.

Ashawagandha

This adaptogen, also known as Indian Ginseng, can relieve stress and anxiety, and sharpen focus and memory improving cognition.

Cannabidiol

Hemp-derived cannabidiol rich in antioxidant properties can help lower cortisol levels while supporting healthy brain function and enhancing focus.